How to submit the proposal? Electronic submission
Submit the proposal to NCN
When you have verified that your proposal is complete, click on Block to NCN.

When editing is disabled, a new tab will appear in the side menu on the left: Electronic submission.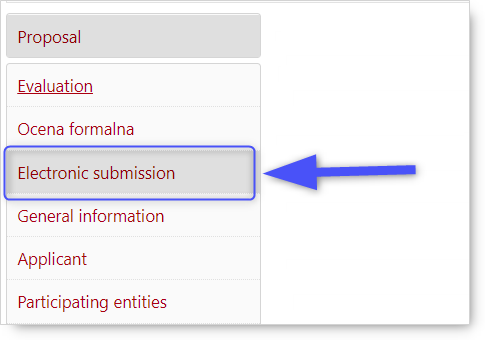 When you click on Electronic submission, the system will present a message informing you that the final version of your proposal is ready to be submitted electronically.
At this stage, you can still edit your proposal by clicking on the Return to editing button.

Before proceeding, you must download:
a submission confirmation receipt from the principal investigator (PI)
a submission confirmation receipt from the head or an authorised representative of the appropriate institution.
These documents must be signed and attached to your proposal.
See Signing proposals for more information.
After completing the form and attaching all of the required files and confirmation receipts, you can then submit your proposal electronically to the National Science Centre by clicking on the Send to NCN button.

When the proposal has been submitted, its status will change to "Sent".